Sunday School
Thanks to a dedicated group of volunteer teachers, children from the ages of 3 to 18 have the opportunity to learn about God and Christ Jesus and learn how to apply the lessons to their everyday lives. Learn more about the classes offered on our Sunday School page.
Children's Church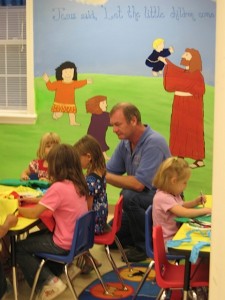 For those young children who find it hard to sit still through a full Sunday service, Bethel offers Children's Church. This is a special time for kids that follows the same basic pattern of worship service and teaches them the rhythm of worship so that they will better understand when they join with the adult congregation! Available during the 10:45 service only (approximately 11:00 – 11:30).
Nursery
A nursery is available during the service for infants to pre-K children who need constant supervision and care.
Playground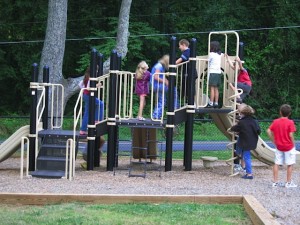 A playground is available to anyone under the supervision of a member of the church. An adult member must be present and is responsible for the playground when it is in use.
CrossWalk
A worship experience for children describing the events of Holy Week through crafts, stories, drama, prayer and prayer pretzels. This event often ends with an Easter egg hunt for those who participate.
Vacation Bible School
Vacation Bible School (VBS) has become a staple in our ministry to our children and community children each summer. Participation has grown in this ministry each year and we hope that will continue as other invite friends to join in the fun.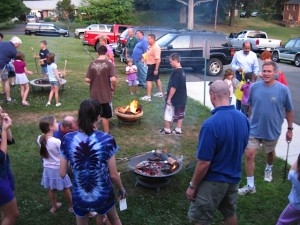 VBS begins with a gathering of all the youth and children where the day's theme is discussed and the week's mission project is highlighted. Then the larger group breaks into different age group categories to rotate through activities of song, craft, stories, and snack. Each day concludes as the whole group assembles for a short closing program. Come join us and invite a friend.
Bethel Child Protection Policy and Forms
If you are interested in participating in the growing child/youth ministries at Bethel UMC, please read the policy statement on Child/Youth protection (documents #1 below), and fill out documents #3 and #4. Both MUST be notarized. When completed, they may be given to Jim Templeton (chairperson of our Pastor Parish Relations Committee) or Pastor Marty.
Vacation Bible School
Will return to Bethel during
the week of  Sunday, July 30 through Thursday, August 3, 2017
Hero Central "Discover your Strength in God"  6:00 p.m. to 8:00 p.m.
Schedule us in your calendar today.
Register
Download the registration form and email the completed form to our Administrative Assistant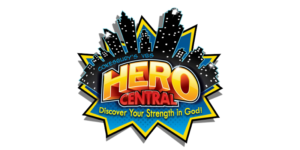 Parent Resource Center
Please visit our Library in Room 303