Bible Study is a significant part of the life of Bethel Church – many have said that it has changed the face of Bethel. Every year, we offer at least one long-term (30-34 week) study and numerous shorter studies throughout the year. The purpose of these studies is to help each participant to draw closer to God and to others in the congregation and help one another in the journey of discipleship. To date, over half of our congregation has engaged in one study or another outside of Sunday morning since 2000.
Some adults believe that they have "graduated" from study; that they have "been there and done it" and now study is only for the children and youth. That kind of thinking is folly. Learning about God is something that we need to do all the days of our lives. Just as we must work at all our earthly friendships and relationships constantly, so must we work on our relationship with God. We do that by three means – worship, prayer and study. And, contrary to popular opinion, we need all three.
Some adults don't think they have time for study because life makes them too busy. Virtually every one of us who has taken the plunge into study has learned that we do have the time if we will just take it instead of wasting it. Over and over, the testimony of those who have committed to study is that they love it, they have time for it and they can't wait for the next study.
A Disciple's Path
The Disciple Bible Studies offer the opportunity to read and study the Bible in a small, commit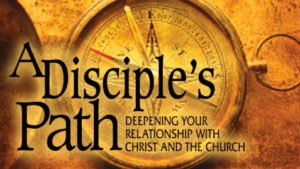 ted group of twelve or less members. They meet weekly for 2 hours for a period of 30-34 weeks (nine months). There are four classes, Disciple 1 through Disciple 4; if you are new to Disciple Bible Study, you are encouraged to begin with the short term study (Disciple 1), however, you may choose to participate in any class in the order that you choose.
Disciple studies are an approach to Bible study that emphasizes disciplined reading of Scripture. In each weekly meeting, they watch a video presentation by a biblical scholar on the subject, then join in study and discussion of the scripture of the week. Each participant makes a commitment to daily preparation, weekly attendance, and full participation in the group study sessions.
More information on the Disciple studies is available at the Cokesbury website.
Small Group Bible Studies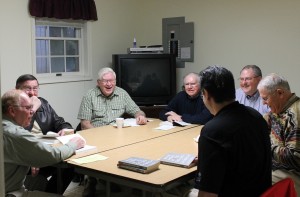 John Wesley (the founder of Methodism) believed that small group meeting and study was critical in the spiritual growth and formation of Christians. Small group ministries have found renewed vigor in recent years as many churches are seeking the connection and accountability that these small groups bring.
At Bethel we have three men's small groups that meet weekly at various times throughout the week to study and encourage one another in spiritual growth. These groups have different formats, but all are designed to help men reverse the tide of society's pull and to find deeper relationship with God and renewed spiritual growth to reclaim the role of family spiritual leader. The current group leaders are: Kirk James, Ken Adams, and Ed Wagner.
There are two women's small accountability groups. The first group meets every Monday morning at 11:00 a.m.  The second group meets on Fridays during the lunch hour.  Please contact the church office for more information.